If you like Contemporary Art as much as we do, you can't miss this blog!
Art Basel is held every year, the largest modern and contemporary art fair that takes place in the cities of Basel, Switzerland; Miami Beach, USA; Hong Kong, China; and this year also in Paris, France.
This weekend, from June 16 to 19, 289 galleries from 40 different countries will gather, presenting paintings, art videos, photographs, installations and sculptures in the city of Basel.
This Swiss international fair opened its doors in 1970 thanks to three gallery owners, receiving more than 16,000 visitors in its first edition. Thanks to the increase in both participating galleries and visitors in the following years, in 2002 the homologous fair Art Basel Miami Beach opened, and in 2013 Art Basel Hong Kong was inaugurated. Its newest edition, Art Basel Paris, will have its first edition from October 20 to 23, 2022. We can't wait to visit it!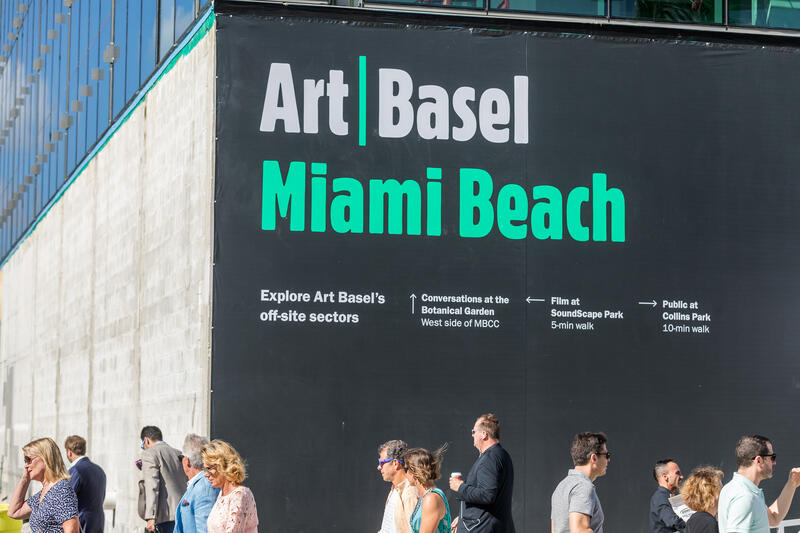 The fair brings together art enthusiasts, galleries, well-known and emerging artists, collectors… and of course among the galleries chosen to exhibit there are several Spanish ones! One of the best known is that of Sabrina Amrani, who repeats like every year in the editions of Miami Beach and Hong Kong. And as happened before at the Arco Lisboa Fair, one of those that will attend the fair is the Helga de Alvear Gallery. It is one of the most famous in the world, and at Arena Martínez we had the pleasure of being able to visit its museum in Cáceres in the VIP Art Experience that we organized for the opening of the exhibition Where Art Meets Fashion in the Institutional Art Space El Brocense by the Diputación de Cáceres.
The fair also offers a talk program in which different important members of the art scene, such as critics, collectors, and artists, give talks related to the world of Contemporary Art.
But if you can't make it, don't worry, Art Basel makes it easier than ever. The fair will publish exclusive live content on its Instagram, so that anyone who cannot physically attend can also enjoy the fair from home.
Another of the implementations that were made as a result of COVID was to upload Viewing Rooms online to its website. This allows galleries to take a virtual tour of their stands, complete with an audio guide!
In our Artsy profile, there are also several very interesting Viewing Rooms, like this one by the artist Elena Gual, or this one from our exhibition Where Art Meets Fashion in the Institutional Art Space El Brocense by the Diputación de Cáceres.
We love this way of bringing art closer to the public, and we believe that, if there is something good that the pandemic has left us, it is the creation of these hybrid events.