We all know that from April to September is wedding season, but this year it is much more so, because apart from those that have been celebrated this year, there have also been those that had to be cancelled due to the pandemic, and that has left with a lot of guest looks to get ideas!
One of the most anticipated for us was that of Álvaro Falcó and Isabelle Junot, since Arena Martínez is a friend of the couple and had the opportunity to attend the wedding. It was held at the Mirabel Palace, in Plasencia, Cáceres, on April 2.
For the ceremony, Isabelle chose a Pronovias dress made for her, with sober, classic lines, a balconette neckline, French sleeves, and a voluminous skirt with pockets. Although the jewel in the crown, and never better said, was the diamond and pearl tiara that she wore.
For the celebration, she changed her dress and decided on a two-piece consisting of a crop top with French sleeves and lace, and a high-waisted, A-line skirt, also from the firm Pronovias.
Arena opted for a two-piece suit made up of a half-sleeved crop top and high-waisted A-line skirt from our upcoming guest collection. She combined it with a pair of Lodi shoes in the same tone as the ensemble in collaboration with Alicia Hernández from Valyty Place.
Another of the most anticipated weddings this year was that of the influencer Marta Lozano with Lorenzo Remohi. The couple said "I do" on May 28 in Jávea, and obviously, dozens of colleagues of the Valencian girl moved to the Alicante town to be present at the wedding.
The bride opted for not one, not two, but… three Lorenzo Caprile dresses! For the ceremony, she wore a classic style design in white silk crepe, mermaid cut, long sleeves, open neckline and open back.
The second design was worn after dinner. This one featured a strapless bodice and a feather-filled skirt with a side slit.
Finally, at 3 in the morning, Marta decided to put on the last dress of the night. It was a mini dress with a corset body finished in points and a short-gathered skirt. It was accompanied by a choker-type necklace from which a cape with lights and a hairnet headdress came out. And there was a fantastic maxi feather fan to beat the heat!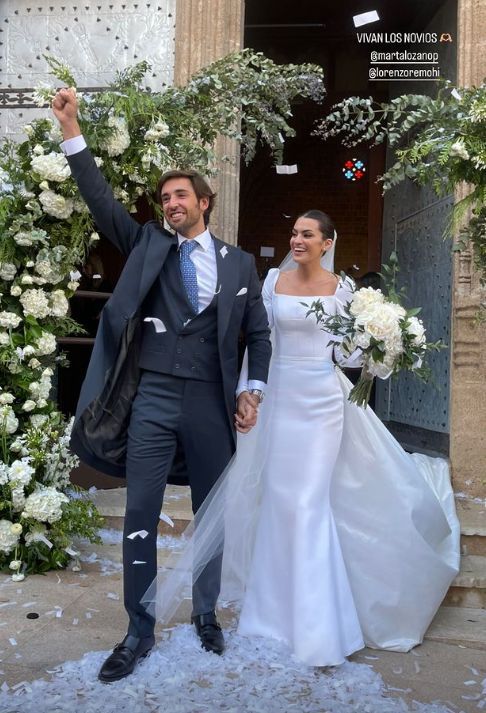 One of the most flattered guests in terms of style was Laura Escanes. She opted for a risky orange satin dress with a halter neck and a low back. She wore it with heeled sandals in a similar shade to the dress and a fuchsia pink feather bag. We love this combination!
Another guest who was radiant was Marta Pombo, 4 months pregnant at the time of the wedding, and wearing a long-sleeved, V-neck wrap dress from the MIOH brand. She wore it in one of the colors of the season, fuchsia, combined with a multicolored bag and gold platform sandals.
Did you like these looks? Well, stay tuned because on our Instagram we have left you some clues about what else we will bring out in the next guest collection.