Summer is approaching, and with it the changes of season and wardrobe, where we say goodbye to coats and welcome the summeriest garments. That's why, if you want to renew a part of your wardrobe, from Arena Martínez, we leave you some recommendations of multi-brand shops in Madrid, where in addition to finding pieces of clothing you can live incredible shopping experiences.
We would start our shopping tour with the central shop of the city of Madrid; Wow Concept.  This huge multi-brand shop, inaugurated last March 12th, offers a new concept that focuses on offering the customer a special shopping experience, where the digital world interacts with the physical products. It has 5,500 square meters oriented towards the world of fashion, beauty, decoration, gastronomy and technology. In this space, we can find all kinds of brands such as ByFar, Miista, Taschen or Loewe.
From Arena Martínez, we have the opportunity to have a corner in this magnificent shop where you can find some of our garments.
The next multi-brand shop we recommend is EsFascinante.  This space, created by Valentina Suárez and her mother, Margarita Ruyra, was created with the aim of creating a new concept of luxury and exclusivity based on sustainable processes and slowfashion.
EsFascinante, in addition to selling clothes, wanted to give visibility to new Spanish artists and creators, in order to promote new talent.
More than 50 brands that meet these requirements have the opportunity to sell their products in this space, among which we are Arena Martinez and where you can access numerous pieces that we offer.
Corsica Kimdress – Arena Martínez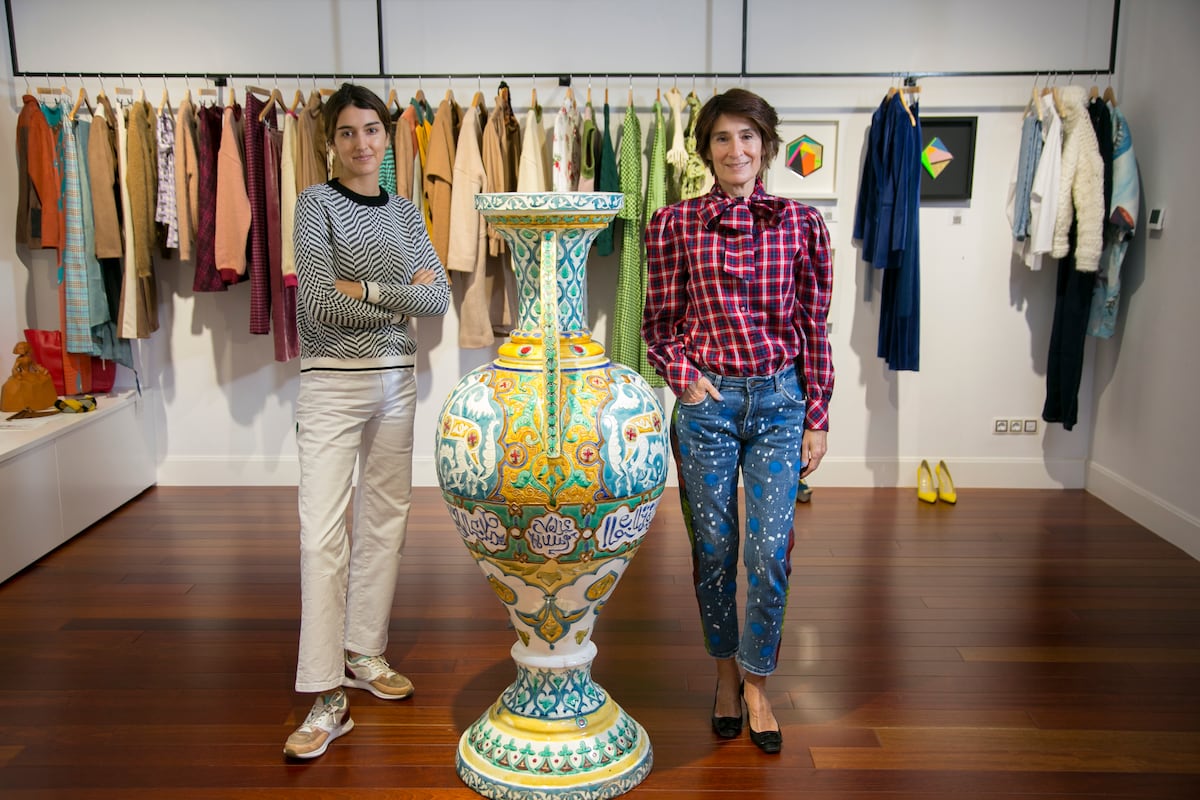 In our third recommendation, as well as having the opportunity to buy exclusive and different garments, you can have a change of look from the hand of the best stylists in the capital of Madrid.
Isaac Salido's space offers a creative place where they focus on enhancing the identity of each person with a touch of trend and style.
This different and exclusive multi-brand space, you can have a different and fun shopping experience.
Finally, if you want to opt for vintage clothes and garments that deserve to be given a second use, we offer you the vintage shop.  This space, founded by Xin Jing, created this shop with the aim of offering historical and second-hand clothes to fashion lovers. This space focuses on denim and military garments, which are considered to be the basis of vintage shops, but it offers them customized and transformed into completely different garments.
In these spaces, you will find unique pieces and brands committed to Slow Fashion, as well as small emerging companies that have been built around exclusivity and sustainability.  Don't hesitate to visit these spaces if you want to enjoy a unique shopping experience.