Vindicator, critical and an icon of punk, Vivienne Westwood has never renounced her political activism, which is so referential in her vision of fashion.
Strongly involved with society and sustainability, her fashion shows and campaigns always give rise to debate and rethink civil rights, ecology and politics. Away from all conventionalism, she posses a unique, exuberant and transgressive creativity, a great example on how to give meaningful messages inside the world of fashion.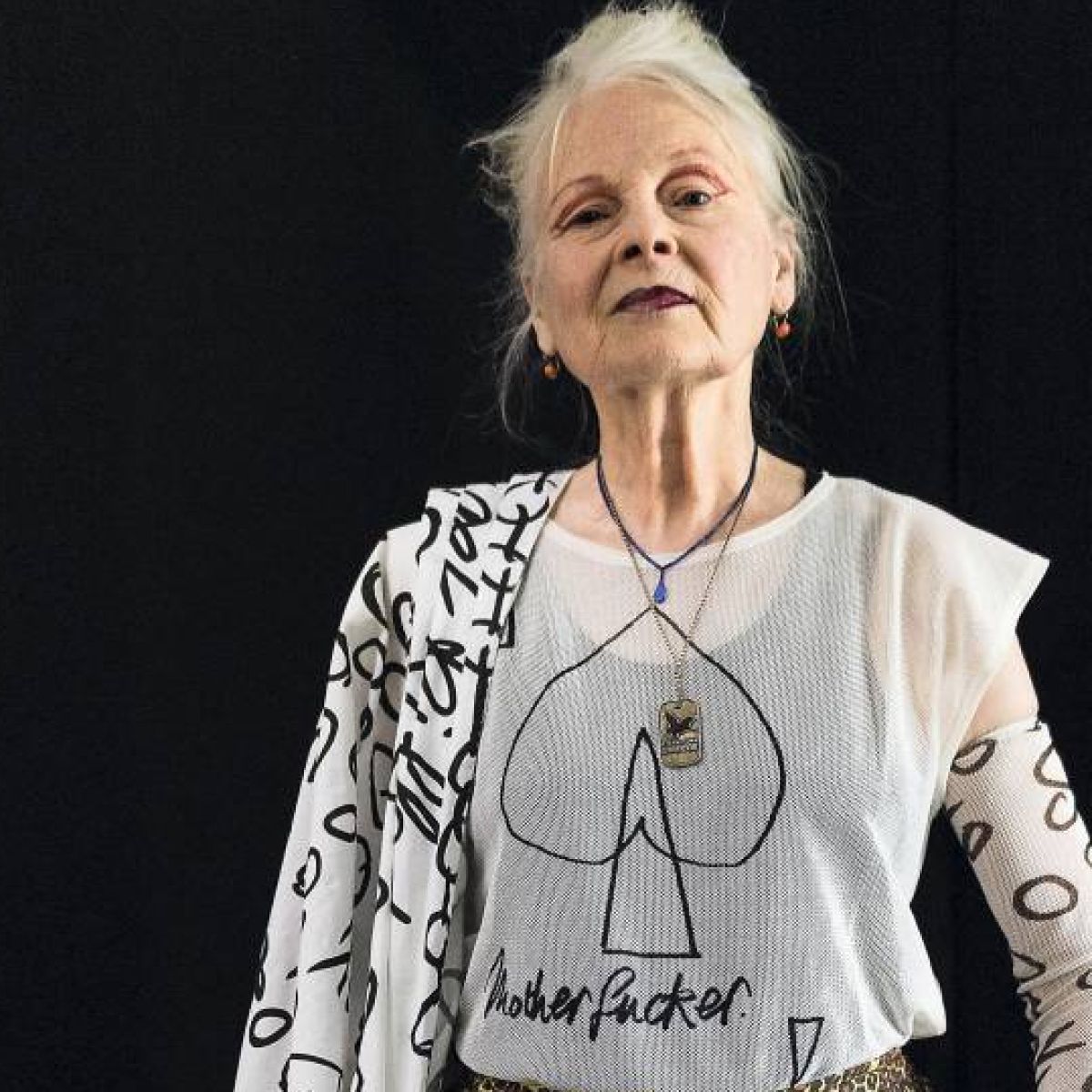 In her own words, she uses fashion in favor of her own activism and vice versa. Her commitment and critical view on society allows her to exceed the limits on speaking against the system from within the system. Where beauty canons are completely set aside to give way to a fashion (or rather, anti-fashion) where beauty is about self-awareness, being daring and critically rethinking current issues.
For over 40 years her protest and rebellious spirit continue to be intact. Currently concerned about environmental issues, a few years ago she created within her website "Climate Revolution", where she fights passionately for issues related to gas extraction, climate change and the urgent change to consume a more sustainable energy.
"We are living in a time where you have to make a choice. And half of humanity has not done it yet, they limit themselves to consuming things and opinions. Choose not to buy a lot: buy good and make it last "
For those of you who are in France and can attend, we would like to recommend the exhibition "Art, Mode et Subversion" that is currently taking place at the Musée des Tissus (Museum of Textiles) in Lyon. Is a retrospective of Vivienne Westwood's various creative stages where more than 200 pieces are shown, including accessories, garments, drawings and designs from her most punk beginnings to her current more activist side.
From Arena Martínez, we are inspired by these fashion leaders who have known how to get to unconventional places, who are involved with the current context an its problems. They have perfectly understood that clothing is not a just a consumer object but it can transcend history, which is both, a product  and generator of itself.
Back to Vivienne Westwood, she could go beyond the limits of fashion to become an explicit activist. In a daring attempt to challenge beauty canons and question social, political and environmental situations.
In our case, at Arena Martínez, we have always been involved in breaking with the limits of art and fashion. Currently we consider sustainability a key and necessary factor to carry out the brand, following the premises of Slow Fashion. Understanding sustainability as a set of environmental, social and economic factors. Our social commitment has prompted us to carry out a charity project for the "Jugueterapia Foundation" in which we collaborated with 20 Spanish artists. And this is what we mean when we say that fashion has a great social burden where designers and consumers must think beyond fashion to understand everything that a brand involves.We have the power to change, from our place, current issues of social and environmental urgency, just by being aware of it and contributing from our small actions.